No fishing season is more hotly anticipated than the first-ice walleye bite, which begs the question: What are the top winter walleye lures? The fish have been left alone for several weeks or even a month during the period between frigid fall and first ice. They're primed to bite once it's safe to venture onto key spots. These locations, often enough, are on or close to the last locations where you caught fish in the fall. Not too much has changed in the world of the fish, as they hold on to similar structures and continue to feed on small perch, minnows, and other baitfish. Solid ice makes a stable platform to scan with sonar and pinpoint key structure, baitfish, and individual walleyes. Dropping baits on them is so much easier than when bouncing in a boat as fall winds buffet your favorite fishery.
We're fortunate to have an array of highly effective lures for this period, some that have become legendary and other relatively new on the scene. Each has its place in terms of action and appearance since walleyes can be notoriously finicky in winter, especially after the first 4 to 6 weeks of the early-ice bonanza. Here we present 10 favorites,. Learn how to work 'em right and you can't go wrong.
Jigging Rap
The first Jigging Rap was designed by none other than Lauri Rapala and his son Esko in 1961, about the time his Original Minnow was taking the fishing world by storm. The original had a broader shape and was larger and lighter than modern versions. Its plastic tail fin was flat instead of the V-shape we've become used to. This lure fast became a favorite of walleye fans across the Ice Belt, as its swimming action was a brand-new phenomenon fish had never encountered. Its motion lures fish closer to take a look, then the rod would bend. It's also one of the most fun lures since the angler is responsible for imparting action to it. A lift-drops action propels it outward, guided by its tail fin. Jigging cadence can make all the difference. It works fine as is, though some anglers feel more confident with a minnow head draped on the central treble. Today, of course, we have many similar designs to choose from, and they all catch fish. And they all owe a debt of gratitude to Lauri Rapala!
Swedish Pimple
Here's another classic that keeps on catching fish. The Bay de Doc Company (yes, based in the walleye-rich region of Lake Michigan) Swedish Pimple was based on designs popular in Sweden as far back as the 1820s. Two brothers, Lloyd and Carl Nyberg, themselves the sons of Swedish immigrants, designed and patented it in 1957. The name is based on the Swedish word for jigging, "pimpla." It's perhaps the quintessential jigging spoon for winter walleyes, with 4 sizes (1/10 to 3/4 ounce). The 1/3- and 1/5-ounce models are most popular, though the big one gets to play, too, for fishing the deepest spots and where walleyes run big. It's an aggressive spoon that doesn't dart to the side much but is deadly on walleyes reluctant to bite when shaken vigorously then allowed to settle. The basic action is about a 1-foot upward stroke that produces a sudden dart and fall. As with most slab-type spoons, the addition of a minnow head can make a lot of difference when fish are not on a hot feed. The iconic red plastic flicker blade on the split ring adds a bit of flash and color contrast as well.
Slender Spoon
The spoon category is a vast one, and new\ models appear every year, each offering a slight shape and action on the fall and when jigged. Custom Jigs & Spins built this one with a revolutionary shape, broader at the top end than at the hook end, which causes a wild fluttering action especially on the fall, but also as the lure's jigged upward. The three lighter ones (1/16-, 1/8-, and 1/4-ounce) are stamped from very thin metal, giving them the action of a flutter spoon, falling slowly and erratically, and often drawing in nearby fish. The largest model (5/16-ounce) is thicker, so it cycles faster and returns to vertical more quickly, allowing anglers to quickly search for active fish. It comes with a Fastach snap to allow it even more freedom of movement.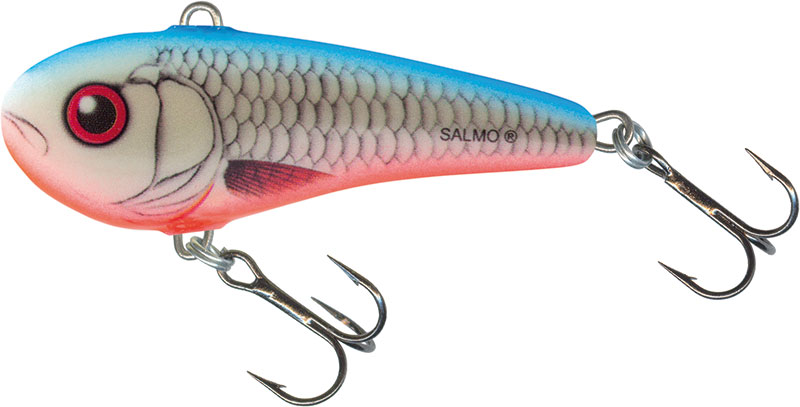 Chubby Darter
This one was the brainchild of our own Jeff Simpson, Digital Project Director at Lindner Media and long-time In-Fisherman Editor, Photographer, and writer. His early balsa prototypes turned the head of Salmo executives, who obtained rights and then manufactured them out of a hard foam material, beginning in 2002. In Rapala-style, Chubby Darters are all hand-tuned and tank-tested. Both sizes proved deadly, with the smaller ones (1 3/8-inch) taking incredible numbers of walleyes as well as crappies. The larger 1 3/4-inch version is just as deadly and easier to fish in deep water. They exhibit a subtle wiggle on the fall and when jigged, causing fish to fly in and crush it. At times, however, a more subtle twitching or jigging gets them to commit.
Buck-Shot Spoon
We doubt that any other lure has accounted for more Minnesota walleyes through the ice than this Northland Classic, created by John and Duane Petersen in their Bemidji workshop in their early 1980s. It is rather compact so it fishes precisely on structure, enabling anglers to quickly drop on fish marked with sonar. The original was soon enhanced with a brass rattle chamber that serves to lure fish, especially when anglers pound it on the bottom, which can be a deadly tactic with many ice lures. It's believed that the resulting puff of silt or sand, combined with underwater vibrations, and an abrupt change of speed causes walleyes to strike. All 6 sizes (1/16- to 3/4-ounce) work in various situations, with the 1/4-, 3/8-, and 1/2-ouncer getting the most use, day in and day out. There are nearly 2 dozen color options, including UV hues and phosphorescent ones.
Rippin' Rap
When Rapala released this lure, it didn't create much stir, joining a dozen or more lipless rattling lures on the market. Ice anglers were just getting used to the attraction and triggering power of lipless lures for ice-fishing, following discoveries of how effective the LiveTarget Golden Shiner was at luring trophy catches. The availability of 3 sizes of Rippin' Rap helped it get over the hurdle whereby a lure won't catch fish in a particular situation unless a lot of anglers use it. The small size (2 inches and 5/16 ounce) proved successful as soon as walleye anglers dropped it on active fish. Trophy chasers headed to Lake of the Woods and Lake Winnipeg went with the 7/8-ounce #7. In between, we saw just how successful this lure is in all sizes. Sound production from its BB chamber resonates in the underwater world, luring hungry or curious predators to it. Often they inhale it, but at times, it serves best as an attractor, and fish may eventually bite on a more subtle presentation. Like always, you have to read the bite and adjust your strategy.
Flutterfish
The Flutterfish from PK Lures is a rather recent addition to your spoon arsenal, one that offers a novel shape with an often deadly action. It resembles a flattened peanut in the shell, especially models with a dimpled finish, due to its pinched middle. It's moderately thick and bent in a slightly concave arch that causes it to fall sideways, shimmying and flickering as it drops. It also rocks back and forth, unlike the erratic fall of most spoons. This slower fall can be the ticket, and this one has proved deadly though under the radar, especially on heavily fished waters where it benefits from its unique look.
Chekai Custom Ice Jig
The use of tungsten tackle has revolutionized fishing and caused even more stir in the ice-fishing world than in open water. A tungsten jig offers a small profile, but with drop speed much faster than lead, due to its far greater density. Custom Jigs & Spins' Chekai is neatly made and cleanly painted in lots of colors, including glows and metallic ones. There are lots of similar tungsten jigs available now, but the larger hook on this one makes it applicable for walleyes, in addition to panfish. Plain metallic jigs have lots of fans for good reason, as walleyes and other species sometimes prefer them over brighter paints. The 5mm size works well with a small rainbow chub or crappie minnow when walleyes turn finicky in late winter. The kick of a live minnow can turn the tide when fishing pressure is high.
Puppet Minnow
Following the lead of the Jigging Rap, we have a good variety of effective jigging minnows, including Northland's Puppet Minnow, the Acme Hyper Glide, Moonshine Lures Shiver Minnow, Custom Jigs & Spins Rotating Power Minnow, Lunkerhunt Straight Up Jig, Phantom Lures Tilly, and a pair from Rapala; the super-heavy Flat Jig that excels in current, and the Snap Rap, equipped with wide winger for extra lateral movement. The Puppet Minnow (5 sizes) has a wide glide and also sports a nose hook, unlike some other models. Experts find that for vertical jigging in winter, more than 10 percent of walleyes may be hooked on the nose hook. This winter, we've just seen a new rattling version of the Puppet that promises great things.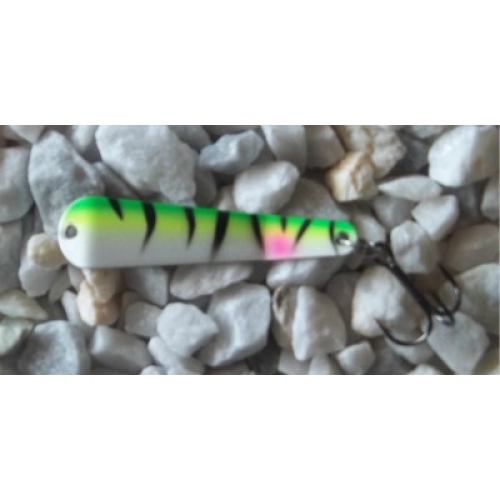 RNR Spoon
This novel lure has a proven track record across the Ice Belt, which is especially impressive since it's not been widely promoted. RJ Lures of Houghton, Michigan produced it to be the most versatile lures on the market. That's because each of its 4 lengths (1 1/2, 2, 2 1/2, and 3 inches) is available in 3 weights, each stamped of metal of different thicknesses. And each one fishes differently. Heavier models act more like a slab spoon, while the light ones flutter. This allows an angler to quickly experiment to determine the level of aggressiveness of nearby walleyes. But the kicker is the uniquely bent shape of three RNR that produces action to drive fish crazy. The upper third is narrow and tapered to a bend of about 30 degrees. Just above the hook, there's a more dramatic bend in the opposite direction, yielding a vaguely S-shaped lure. This one can get real squirrelly in the hands of an experienced jigger.